Advanced Creative Workshop

A VIPP Training of Facilitators emphasizing creative skills in the art of facilitation will be held from 27 November to 2 December 2016 ar St. Ulrich, Black Forest, Germany.
Through the process of Action-Reflection-Action, participants will learn to:
| | |
| --- | --- |
| | Design meetings, conferences and workshops with meaningful outcomes for all participants |
| | Develop creative facilitation skills |
| | Refresh and update skills in the art of visualization, intercultural dialogue and group dynamics. |
Please contact Timmi Tillmann for more details via email at: Tillmann2003@gmx.net
Dialogue on Visualisation in Participatory Programmes (VIPP)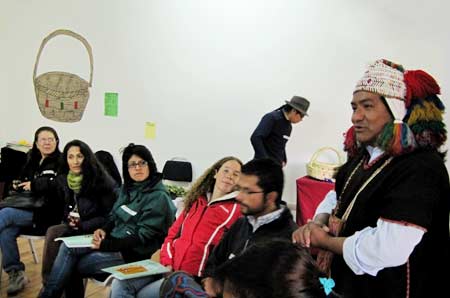 Over the past 22 years, Visualisation in Participatory Programmes (VIPP) has been used in many communication and education programmes around the world as a toolkit for participatory planning and training, as well as partnership building for many development programmes. The VIPP methodology breaks down formal "seminar culture" and is adaptable for use with almost any framework. The VIPP process empowers people as it creates opportunities to express ideas, values individual experiences and inspires participants to contribute at optimal levels. Since 1991, VIPP has been applied successfully in programmes and events in Asia, the South Pacific, Latin America, Africa, Europe, and North America, including the development and design of regional communication initiatives; youth programmes; many public health programmes, including HIV/AIDS; life skills building and gender equity programmes; training on Participatory Learning and Action; supporting democratization of food sovereignty at regional and global levels; programmes in agriculture, fisheries, the environment; learning methodology for emergencies and humanitarian responses; and in other social and economic development programmes around the world.
The VIPP network is holding a dialogue on the experiences in the use of Visualisation in Participatory Programmes (VIPP) in order to energize users of VIPP methods to share resources for further application, either as independent facilitators and trainers or members of organizations and networks. The network coordinators believe this is very important for the further development and sustainability of the VIPP methodology. The hope is to get major inputs from practicing VIPP facilitators and trainers around the world during July to September 2013 which will help complete the paper on the "State-of-the-Art of VIPP". Participants will then receive this paper in January 2014, for final input in preparation for a Global VIPP Summit during June 20-22, 2014 in Southern Germany. The hope is that a core group of people who have contributed to this dialogue will be able to attend. The purpose of the Summit will be to answer questions and issues that cannot be settled electronically.
Interested facilitators and trainers, who want to contribute to the future dialogue, should contact:
Neill McKee (nmckee20@gmail.com) and/or
Timmi Tillmann (timmitillmann@googlemail.com).
Click here for more information about the VIPP manual.
Planning for emergencies in Kiribati
The VIPP process was adopted for facilitating a workshop held in Kiribati to develop contingency plans for preventing and managing outbreaks of H5N1, H1N1 and diarrhoea, as well as for occurrences of drought and other natural disasters.
The plans developed during the workshop included strategies and action for risk communication. It covered community outreach, mass media campaigns and the development and pre-positioning of information-education-communication (IEC) materials to support on-going activities of the various health-promotion teams, national disaster management office, pandemic task forces, UN agencies and other concerned stakeholders.
For more information click here.
Adolescent girls' workshop, Kiribati
Nuzhat Shahzadi, one of the authors for the VIPP manual and currently the Chief of Field Office and UN Joint Presence,UNICEF Pacific, Kiribati, facilitated an in-depth qualitative exercise with girls aged 12 to 15 years using VIPP.
Kiribati is one of the UN Champion countries for the global Adolescent Girls' Initiative (AGI). A champion country is one that will leverage the power of the UN
to support the realization of adolescent girls' rights. The workshop was organized as one of the asctivities leading up to the preparation of a concept note for the Global UN Adolescent Girls' Task Force which is co-chaired by UNICEF and UNFPA.
Click here for more.
Afghan Red Crescent Volunteers use VIPP
Nuzhat Shahzadi, a coauthor of Visualisation in Participatory Programmes: How to Facilitate and Visualise Participatory Group Processes, shot and compiled a photo report on VIPP being used to facilitate a planning workshop of Afghan Red Crescent Volunteers held in Herat, Western Afghanistan. Nuzhat and her colleagues from UNICEF were the workshop fascilitators. The workshop participants represented different age groups and gender. Click here to see the photographs contributed by Nuzhat.
Our popular manual for facilitators: Visualisation in Participatory Programmes: How to Facilitate and Visualise Participatory Group Processes has now been reprinted with a fully updated annotated bibliography offering the latest published and web-based resources for facilitators of participatory events.
Visualisation in Participatory Programmes: How to Facilitate and Visualise Participatory Group Processes
This manual has been written for the trained facilitator of group events. It is designed to reinforce concepts and techniques learned in training of facilitators and trainers in participatory group processes. VIPP is not wedded to a particular framework or academic discipline in problem solving, planning or training. Rather it is a set of tools that can be applied to just about any group process as long as the intention is to make such processes more participatory
and democratic.
This is a manual for facilitators and trainers involved in:
| | |
| --- | --- |
| • | Planning and revising projects and programmes |
| • | Communication materials development and story-line planning |
| • | Putting research into action |
| • | Community-level development work, including PRA/PLA |
| • | Training workshops |
| • | Training of facilitators and trainers |
| • | Curricula development |
| • | Running conferences and information markets |
| • | Management, human-resource planning and team building |
| • | Business meetings |
Browse for more information
An invitation to all facilitators of group processes



The publishers of this website invite users to send in their experiences in applying VIPP. Best would be short descriptions of about 400 to 500 words with two or three good quality, digital photos which we can have the rights to use. Send captions and photo credits needed. It would help a great deal if both positive and negative experiences are included in your contributions.

You are also invited to discuss issues related to participatory VIPP processes at our Community of Practice, see below:

VIPP Community of Pratice


Click here to access an interactive facility where you can post questions about VIPP as well as share your experiences in participatory processes. Send your substantial contributions to vipp_practice@yahoo.com.