Adolescent girls' workshop, Kiribati
An in-depth qualitative exercise
with girls aged 12 to 15 years
Facilitator: Nuzhat Shahzadi
Chief of Field Office and UN Joint Presence, UNICEF Pacific, Kiribati

Background
In 2010, a UN joint Statement Accelerating Efforts to Advance the Rights of the Adolescent Girls was signed by the Executive Heads of UNICEF, UNFPA, UNESCO,WHO, UN Women/UNIFEM and ILO. The statement proclaims that The UN will work with governments, civil society, communities, adolescent girls and boys on five strategic areas:
| | |
| --- | --- |
| | Educate Adolescent girls |
| | Improved Adolescent girls' health |
| | Keep Adolescent girls free from violence |
| | Promote Adolescent girl leaders |
| | Count Adolescent girls |
Kiribati was selected as one of the UN Champion countries for the global Adolescent Girls' Initiative (AGI). A champion country is one that will leverage the power of the UN to support the realization of adolescent girls' rights, especially the most marginalized, through policies, programmes and partnerships in line with the five strategic areas as indicated in the UN joint Statement.

UN Joint Presence Office has been requested by the Global UN Adolescent Girls' Task Force (AGTF) to develop a concept note. AGTF is co-chaired by UNICEF
and UNFPA.

The purpose of the concept note is:
To provide the broad elements for a planning phase of a joint
adolescent girls' initiative
To be used for advocacy and resource mobilization at national and
global level
As a result, we invited 10 adolescent girls to attend three participatory sessions
to express their views on:
| | |
| --- | --- |
| | What is it like to be an adolescent girl in Kiribati? |
| | What problems girls face in Kiribati? |
| | What are their aspirations? |
All participating girls are studying in post-primary levels (class VII—XI) and
some are associated with community youth groups. They came from three villages
of South Tarawa island. They spoke good English and though a bit shy in the beginning, they opened up through the VIPP (Visualization In Participatory Programmes) methods used in the sessions. However, the local UN officers
(all females) decided to leave the room so that the girls could be less inhibited in articulating their ideas to the international facilitator.
Session I
Method: Introduction and forming teams
Everyone introduced themselves and mentioned the names of their mothers and fathers. The girls chose to do it this way (example: I am Okoro, my mother's name is ….. and my father's name is….).
The next step was to form teams of two. The facilitator had drawings cut in halves, folded and put in a bag. Each person had to pick one piece of any drawing and look for the missing half. When the drawing matched they became a team. Each team showed the drawing they matched to the rest of the participants. The drawings were on different motifs- club, diamond, flower, heart, etc. This exercise helped to break the ice and there was a lot of laughter as the girls tried to match the missing pieces.
Session II
Method: discussion, drawing exercise and visual presentations
A drawing exercise was used in this session to understand some aspects of the life of an adolescent girl in Kiribati. The questions were:
| | |
| --- | --- |
| | What do you like being an adolescent girl in Kiribati? |
| | What problems do you and your friends face as girls? |
Each team had to take some time to discuss the questions and then draw either a bread fruit tree or a coconut plant with the leaves depicting the problems and the fruits to present what they like being an adolescent girl. The session was for about 60 minutes and after completion each team presented their drawings to the plenary-one member presented the leaves while the other the fruits.
Team work on identifying what adolescent girls like to do in Kiribati-
a breadfruit tree of ideas
The following issues were highlighted in their team work:
We like to:
Play with our friends and swimming
Travel – to outer islands
Local dancing – traditional –not the modern hip hop
Study and school- like to understand our lessons
Laugh and keep smiling
Watch TV- news of what is happening in other countries
Read interesting magazines
Pray and read the Bible
Sing
A "coconut tree" of problems that girls face in Kiribati
Problems we face:
Bullying (by boys)
Hard to study in the noise (in school)
Girls drinking alcohol and going to bars and getting into trouble
(sexual exploitation, sexual debut)
Our friends force us to do something bad- drinking alcohol
We cannot win the competition (sports)
Parents- do not understand our Bullying (by boys)
Hard needs and do not listen; controlling- do not allow us to participate
at "kabotaeka" or social nights, or playing or swimming.
Too much work to do at home
Beating by fathers ( painful) and punishment
Work/ chores that girls have to do at home
Do not understand lessons in school
We don't have help for something we cannot do
Parent say that "girls are wasting money". Sometimes they scream at us.
Sometime we do not have dancing costumes (for traditional dancing)
(Some) Parents don't work- so they can't send girls to school
More on teamwork
Presentations:
Presentation on what girls like to do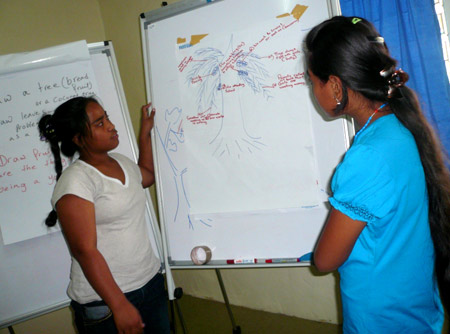 A chart showing the problems girls face
Session III
Method: Plenary discussion
What are our aspirations?
The following ideas came from the girls:
| | |
| --- | --- |
| | We want to become "sea women"- sea farers (like boys) |
| | We want to become teachers |
| | We would like our parents to listen to us and understand our needs |
| | We would like more freedom to move around |
| | We would like to visit other countries |
| | We would like to dance (traditional dancing) |
Session IV
Method: Plenary discussion on issues of concern/interest and
"reading of Meena comic Books"
Some other issues that the girls wanted the UN to address while developing the strategies and interventions:
| | |
| --- | --- |
| | Menstrual hygiene and adolescent reproductive health issues |
| | Nutritional need of adolescent girls and their workload |
| | Sports for girls |
| | Climate change |
Issues voiced regarding menstrual hygiene
It is a taboo issue and best kept "hidden." Girls feel shy talking about menstruation with adults. They usually learn about it from friends. Sometimes the mother helps and grandmothers usually explain what to do. Two girls in the group have not yet menstruated and they both learnt about it from their friends. One girl also mentioned a teacher.

Mobility and food intakes are restricted during menstruation. Some girls miss school during the first 2-3 days of each cycle as schools do not have proper toilets water facilities. This affects their performance in school.

Girls use pieces of old cotton cloth (bought from second hand market) as pads and wash them in a secluded place with well water. They usually do not bathe in the ocean when menstruating and use well water for the purpose but now a days some girls do hop into the ocean while they have periods. They sundry the washed pieces of cloth- but "some girls are lazy" as voiced by the participantsand they do not pay attentionto use a sunny, clean place to hung the used, and washed cloths. Some girls burn the used cloths.

Girls mentioned that they do not have any information regarding –how their bodies and minds are growing: adolescent reproductive health issues (puberty, STIs, etc.). All the information they get is mainly from their peers.

Issues voiced regarding food and workload

Girls usually have to assist with the household chores which include washing, cooking, cleaning, collecting firewood and taking care of younger siblings. Boys play while girls toil. Sometimes, some brothers help with collection of firewood. Girls are sad as they miss playing and hanging out with friends. Parents do not distribute workloads to sons. Girls would very much like their brothers to assist more. Men and boys eat first and so "the chicken legs" and the best part and portion of the food is consumed by them. Whatever is left is eaten by the girls and women. Food is not distributed by the mothers – it is the cultural practice that males eat first and everything is served to them first. Girls voiced that they would very much like to eat the chicken legs and good food but even if when they are serving they offer the best portions to the males of the household as that is the norm. One girl said it is normal for a girl to make "sacrifices."

Issues regarding relationship with boys (as friends?)

There are opportunities to have boys as friends as both girls and boys are members of community youth groups in some villages. Girls said they feel shy regarding considering boys in the "romantic" terms or discussing about boys among themselves (a lot of giggles indicated that this may not possibly be entirely true).

Girls do not like the boys who are rough and bully them. By bullying they meant teasing and sometimes physically pushing/hurting them, or being mean, etc.

Issues regarding sports for girls

All girls voiced that they would like to "win" matches. At the moment there are some sports teams in schools but girls are not coached properly. The sports played here are volley ball and football. Some girls play in those teams. They would like to have strong national girls' teams. In some schools they play in mixed teams with boys.

Girls would also like to have established girls' sports groups which can support peer learning on issues beyond sports for example – health, puberty related matters, etc. Only one girl mentioned that she is aware of girl guides operating in Kiribati.

Issues regarding climate change

All girls expressed that they are aware about the climate change issues. Their parents are not so much conscious about it and neither the community members. Girls feel afraid about it. When probed they mentioned that they think the island will sink one day as "the ocean is rising." They do not know what to do about the climate change issues.

Meena

Introducing Meena, the central character in an animated television series, as a symbol of girls' empowerment. The facilitator very briefly introduced Meena. Copies of a comic book on an episode was shared with the participants. The episode was entitled "Dividing the Mango" on the theme of right of girls in getting equal share of food as boys, and the issues of workload. A lot of interest was generated among the girls.
Reading Meena stories together!